So you want to get into digital dentistry? We wrote this guide to help you get clarity on some basic questions. Let's get started!
1. How accurate are intra oral scans?
Conventional impression materials have an average accuracy error of 38 um [link]. In 2022 an independent In-vitro study [link] was done comparing the accuracy of 12 intraoral scanners the results are as follows:
Carestream CS 3700 (average error 30.4 μm)
iTero ELEMENTS 5D (31.4 μm)
Medit i-500 (32.2 μm)
3Shape TRIOS 3 (36.4 μm)
Carestream CS 3600 (36.5 μm)
CEREC PRIMESCAN (38.4 μm)
Straumann VIRTUO VIVO (43.8 μm)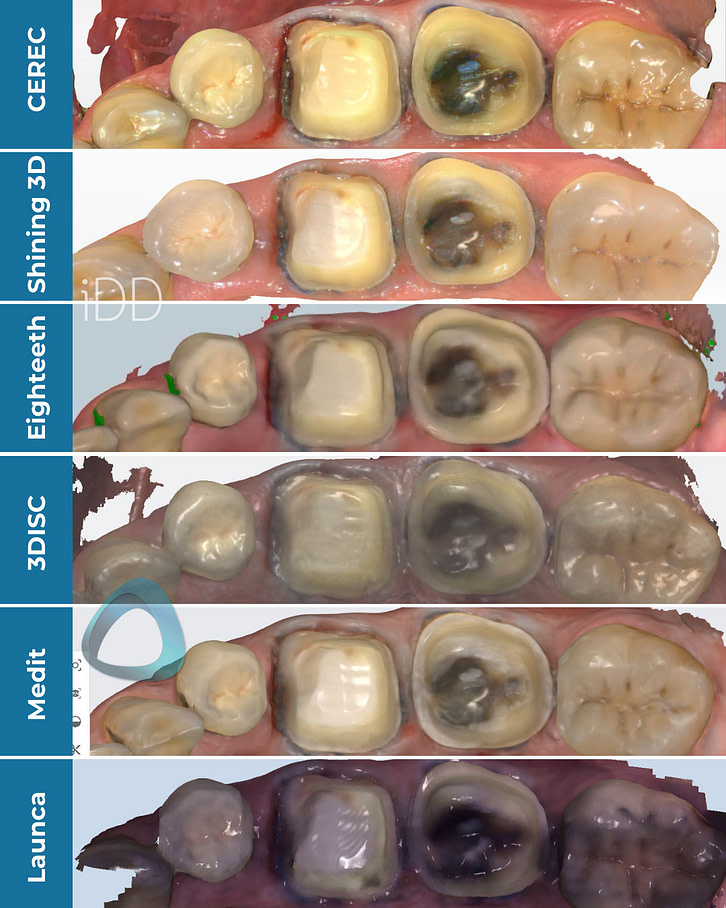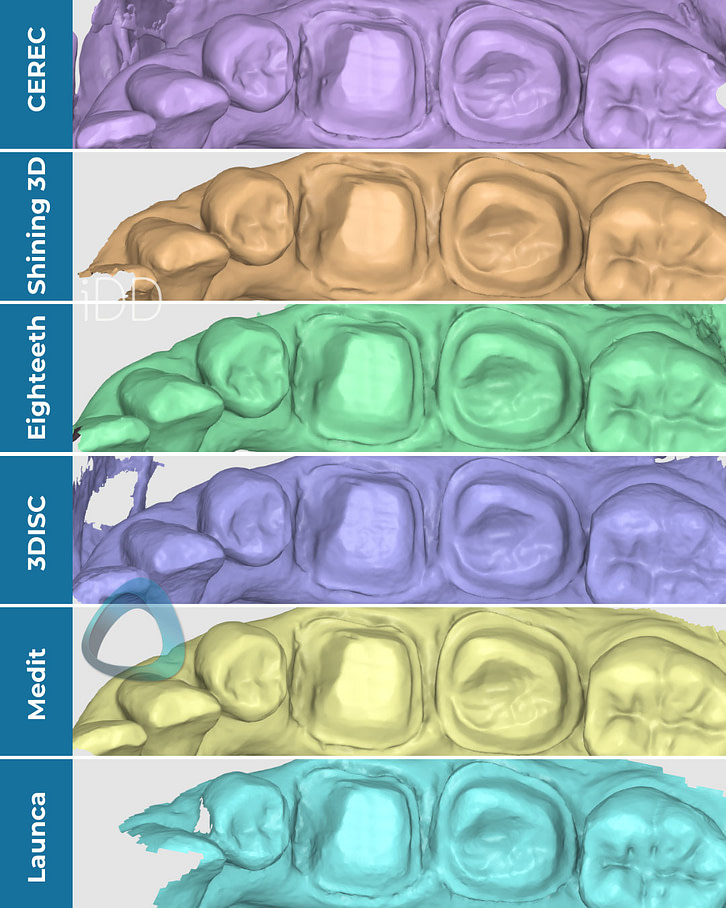 Image. Accuracy of scanners is comparable
As you can see these scanners are quite similar to each other in accuracy and the top of the line ones have less error than conventional material impressions.
Dr. Yamaoka's Comment: When done properly, with good visiblity of the surfaces, scanning is more accurate than taking an impression.  Impression materials have expansion and contraction issues.  Digital is not good for sub-gingival margins without adequate retraction, need healthy tissues (no bleeding or inflammation).
2. How long does it take to scan a patient?
This is a hard question to answer, as it greatly depends on operator skill! What we can say is as operator skill increases, the time to scan drops. A 2020 study [link] had 10 dental students and scan 10 different patient's upper/lower arches and bite.
For the first patient the students scanned, the average scanning time was 23 mins and 9s. By the tenth patient the average scanning time had dropped to 15 min and 28s.
Many companies have released promotional videos showing arches being scanned in under 1 min 30s. So the technology has the capacity if you have the skill!
Dr. Yamaoka's Comment: An experienced dental assistant can scan upper and lower arches in 5 to 10 mins.
3. How much does a scanner cost? (all prices in CAD)
The cost ranges from $15,000 for lower priced models to $60,000 for higher priced models. Some scanners also have yearly subscriptions fees.
Shining 3D Aoralscan 3: $15,000 / subscription $0
Straumann Virtuo Vivo: $17,000 / subscription $0
Medit i600: $18,000 / subscription $0
Medit i700: $24,000 / subscription $0
3Shape Trios 4: $29,000/ subscription: $2500
3Shape Trios 5: $35,000/ subscription: $2500
Carestream CS3700: $42,000 /  subscription $0
Dentsply Primescan: $51,000 / subscription: $1800
iTero 5D Entry Level: $48,000 / subscription $5000
iTero 5D Max Config: $61,000 / subscription $5000
Prices are estimates only.
Some taken from [link] 
Dr. Yamaoka's Comment: Price has come down significantly from when I purchased my first scanner. Choose a scanner that facilitates not only your implant practice, but your restorative crown and bridge work as well, and has support software you feel comfortable using. 
Conclusions
Intra-oral scanners are becoming a competitive market, which is good for dentists. Prices are lowering, and performance is increasing.
Most scanners these days are fast and comparable in scanning time.

Most scanners are similarly accurate and more accurate than conventional impressions material.

All scanners are now open platform, allowing the export of at least one of the following files STL, OBJ and/or PLY, and with the ability to directly upload scans to a dental lab of choice (including D.future).
If you want to take a deep dive into a particular scanner we recommend checking out the reviews done by the Institute of Digital Dentistry: link
If you're looking for an entry level scanner we would recommend the Medit i600. 
If you're looking for a top of the line scanner we would recommend a Trios from 3Shape.